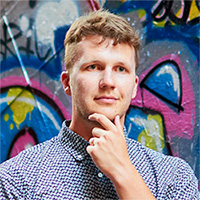 Hello
My name is Pranas Ziaukas but you can just call me Frank.
I enjoy playing table tennis with friends, doing photography and looking for hidden lunch boxes around the world (also known as geocaching).
During workdays I'm a software and data engineer and a mathematician among other roles.
Background
Having studied in Lithuania and Sweden, I obtained Master's degree in mathematics. Feel free to read my thesis.
Also, I happened to co-author a handful of scientific papers whilst working in academia.
Career
Coding
Python, R, SQL, Bash
data engineering and science (7+ years)
TypeScript / JavaScript, C#, HTML / CSS
software engineering and development (8+ years)
MATLAB, SAS, LaTeX
academical research (3 years)
Interests
mathematics, algorithms
artificial intelligence, machine learning
big data modelling, analysis
automation
Get in touch
In case you have any ideas or feedback, feel free to drop me a message.